Sales of Endoscopes by MedicalConnect - Used Endoscopes
Mint condition and tested for function
MedicalConnect offers used endoscopes in mint condition as an affordable alternative to a new instrument
Used endoscopes are a good investment. Compared to a new endoscope they offer an affordable option to physicians who are looking for cost-effective solutions for their office or hospital. In our online shop you will find a large selection of used endoscopes made by leading manufacturers: Olympus, Pentax and Fujinon.
These endoscopes have been fully reconditioned and tested by us. We carry out extensive functional testing and maintenance of all devices in our workshop before offering them for sale.
MedicalConnect stands for top-quality, mint condition, used endoscopes.
Additional Services
Trade-in: We will accept your old device as part payment upon request. If a repair does not make economic sense, or if you wish to acquire a more modern instrument, we will draw up a purchase offer and accept your device after our appraisal.
PLUS-Guarantee: We provide a one-year warranty on all used endoscopes. You may also opt for the PLUS-Guarantee, which extends the warranty for another year thus comprising a total of two years.
Ask us about our "PLUS guarantee"!
Your benefits
Mint condition instruments
Purchase of a branded endoscope
Affordable alternative to a new device
Tested and fully refurbished by experts
Twelve-month warranty
Optional "PLUS guarantee"
Trade-in your old device
Endoscopy Instruments in the online shop
In our online shop you will find used endoscopes that have been fully refurbished by us. We provide a one-year warranty for these instruments. If you wish, you may extend this to two years in opting for our supplementary PLUS guarantee.
Trade-in
If during the repair of your endoscope we determine that a restoration is not economical, you may trade-in your device and replace it with a used instrument from our stock.
Find used endoscopes and more in our online shop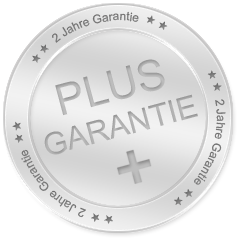 PLUS guarantee
Two-year warranty for used endoscopes
You receive a one-year warranty for all used endoscopes. For a small supplementary charge we extend the warranty to two years.
Ask us about our "PLUS guarantee".
Benefits of a "PLUS guarantee"
Two-year warranty - more insurance for your endoscope
Free repairs of material and production defects
Free repairs in the warranty case
Loaner device for the duration of the repairs (when available)